Résumé
Business Administration professional with a master's degree in creative and cultural industries with leadership skills, disciplined, dedicated and responsible. I have national and international experience in the areas of tourism, exports and administration. Able to distinguish and identify different work contexts and high capacity to adapt given that I have had the opportunity to live in various countries. Willing to give the best of me always.
Expérience professionnelle
Intern
ProColombia
De Septembre 2019 à Janvier 2020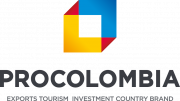 ProColombia, Germany Commercial Office
Support in the three main areas of the office: exports, investment, and tourism through contact with the different stakeholders involved in the operations, organization of commercial agendas, presentation of market researches, logistic support in international fairs and events, calls for Business Matchmaking Forums. On the other hand, I was involved in administrative tasks and the management of the tourism promotion program in the office, PNTM (ProColombia Natura Travel Mart).
Parcours officiels
NEOMA – Programme Grande Ecole

Espagnol - Langue maternelle
Anglais - Courant
Allemand - Technique
Français - Notions